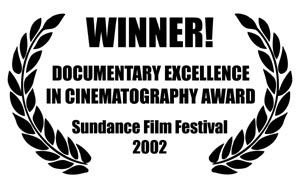 Have Siding Will Travel
With humor, chutzpah, and a piece of vinyl siding firmly in hand, Peabody Award-winning filmmaker Judith Helfand and co-director Daniel B. Gold travel to America's vinyl manufacturing capital and beyond in search of the truth about vinyl, the world's second largest selling plastic.



Vinyl was my father's answer to the rotten wood on our house. Everyone assured me that vinyl siding was safe, and would only let off toxic gas in the rare event of a house fire. But after my experience with cancer caused by DES [a synthetic estrogen and anti-miscarriage drug prescribed to my mother and millions of other women], I figured any material so loaded with synthetic chemicals had to pose some kind of risk. Later I asked my dad, "If you had known that over the course of its lifecycle, from the factory to the incinerator, vinyl produces a wide array of deadly pollutants that threaten our future with a global toxic crisis, would you still have put it on the house?" "I hope not, honey," he said. "But they didn't write that on the box." So, with a piece of vinyl siding firmly in hand (a remnant from my parent's house) I took off – on a journey to re-write the outside of the box.

I wanted to go to the source of my parents' vinyl siding, and since Louisiana produces about a third of North America's PVC, the key ingredient in all vinyl products, there's a good chance it started right there in Lake Charles – a port city about forty miles from Texas. While in Lake Charles, I met Diane Prince a resident who lives across the street from the massive Condea Vista Plant. Stricken with cancer, she believes it was caused by the by-products discharged from the plant's burned chemicals and airborne pollutants. There, I also met Billy Bagget – an independent lawyer in Lousiana who has spent the last decade piecing together a conspiracy against 29 of the largest PVC-producing chemical companies in the world. Bagget represents Lake Charles residents and their widows as well as a growing number of affected vinyl workers and families throughout the U.S. It quickly became clear that my father's answer to rotten wood was somebody else's toxic hazard.

From Bagget's office in Louisiana, I traveled to Venice, Italy. Venice has been one of the vinyl producing centers of Europe since the 1960's. In Venice, I witnessed a trial in which 31 executives from a PVC-producing company have personally been accused of manslaughter in the deaths of their employees, and of polluting the Venice Lagoon. Ampelio Magro worked as a "bagger" in one of the vinyl factories in Venice. Having lost his ability to speak from cancer of the larynx, he now speaks with the aid of a vibrating voice box. "One day I went to lunch to eat, and I washed my hands, and my arms. And when I dried myself, and I looked at my hands, they were white. My co-worker looked at me and said: 'The dust. What have you done to yourself?' And I couldn't wash it off. 'And the dust that you breathe,' he said, 'When will that come off? If it won't even come off by washing your hands? When will that go away? Stay home from work,' he said. This is what happened to me. I can assure you that in one of the departments where PVC was being produced, the way in which it was bagged was terrifying. From here, those who worked there, very few are still alive. And it was here that you had all the baggers. Everybody. Because I have cancer in the lungs, and it was here that the poison affected us, in all of the lungs at the larynx."

I was blessed and somewhat haunted by the first-person knowledge of the health impacts of vinyl production on the residents and workers in Lake Charles, Louisiana and Venice, Italy. "Is it possible to make products that never hurt anyone at any point of their life cycle – when manufactured, when used, or when disposed of?" Believing that the answer to this question is yes, I became obsessed with the idea of taking the vinyl siding off my parents house and replacing it with a less harmful material. With my parent's begrudging but sincere blessing and I set out to find an alternative. From stucco to sustainably harvested cedar shakes, my colleagues and I jumped feet first into the complex world of trying to choose materials that don't hurt anybody at any stage of their life cycle – from production to disposal – and can also be easily recycled. In addition to meeting my own high standards of non-toxic, sustainable, and affordable – I also had to find a material that fit in with the neighborhood and could [hopefully] be put on in time for the High Holidays. After an exhaustive search I found myself choosing between an old red barn in upstate New York (c. 1890) and what had once been the roof of a mill in Nashua, New Hampshire. (c. 1900). Which one got recycled into a brand new "next life" with Florence and Ted in suburban Merrick Long Island? One thing we can tell you...the house is STILL blue.

An environmental health movie – let alone a "social change" documentary has never been this much fun.
Judith Helfand
Co-Director/Co-Producer: Judith Helfand has worked as a documentary producer and director for the past ten years -- her films have enlightened, enraged and engendered hope.
She co-produced and co-directed The Uprising of '34, broadcast on the POV series on PBS, it was voted one of the 10 best documentaries of '95 by the Academy of Motion Picture Arts and Sciences. Her next film A HEALTHY BABY GIRL was an official selection of the 1997 Sundance Film Festival, broadcast on POV, and received a 1997 Peabody Award for excellence in journalism and public education.
Building on the organizing that took place around THE UPRISING OF '34, the distribution strategy for A HEALTHY BABY GIRL was been built around the idea of bringing together people who might never meet each other, generating unlikely alliances to heighten their awareness about the long-term threat of similar chemical exposures - and turn empathy into action.
Helfand continues to explore the impact of corporate and industrial power and chemical exposure with BLUE VINYL, premiering at the 2002 Sundance Film Festival. Helfand is an adjunct professor at NYU's Department of Undergraduate Film and Television; with Robert West, she co-founded WorkingFilms, a non-profit organization and national "laboratory" based in Wilmington, NC, dedicated to linking filmmaking to long-term social change.
Daniel B. Gold
Co-Director/Co-Producer: Daniel B. Gold a Director of Photography and Cameraman, his work has frequently been seen on Saturday Night Live, Dateline NBC, and The Hallmark Channel. His documentary work has been broadcast on several networks including PBS (A HEALTHY BABY GIRL and ANCESTORS) and the Discovery Channel (DEAD SEA SCROLLS and PROUDLY WE SERVED: THE MEN OF THE USS MASON). BLUE VINYL marks Dan's feature documentary debut as Co-Director and Co-Producer. With BLUE VINYL as their first collaboration, Dan and Judith started Toxic Comedy Pictures/Salt In The Ocean Productions, to create original, entertaining media with a sense of humor and a social conscience.
Julie D. Parker
Co-Producer: Julie D. Parker began her documentary career in 1994 as a researcher on Walter Cronkite's eight-hour television autobiography CRONKITE REMEMBERS that aired on the Discovery Channel. In 1996, she moved to Non Fiction Films and served as production executive on three documentary series -- CHOOSING SIDES: I REMEMBER VIETNAM, THE WARRIOR TRADITION for The History Channel and GUNFIGHTERS OF THE WEST for The Learning Channel. Julia's commitment to linking filmmaking to environmental health started with her work on the one hour documentary PROSTATE CANCER: A JOURNEY OF HOPE which aired nationally in June 1999, attracting over 3.5 million viewers -- one of public television's largest audiences. In addition to Co-producing BLUE VINYL Parker is the Bay Area Coordinator for the MY HOUSE IS YOUR HOUSE consumer organizing and education campaign.
Sari Gilman
Editor: Sari Gilman has been working in the independent film community for the past ten years. Two of the films she worked on had their premiere at the 2000 Sundance Film Festival: PARAGRAPH 175, Robert Epstein and Jeffrey Friedman's film about the experience of homosexuals during the Nazi Era won for Best Director and will air on HBO in 2001; and PLEASURES OF URBAN DECAY, a film about comic strip artist Ben Katchor. After its premiere at Sundance the film was shown at the Berlin and Rotterdam Festivals. Sari was also Associate Editor and Post Production Supervisor on REGRET TO INFORM, the Academy Award nominated film by Barbara Sonneborn about widows of the Vietnam War, recently broadcast on PBS. Sari as also producer on two radio documentaries for NPR'S All Things Considered in 1998 and 1999. BLUE VINYL is her first feature. She is currently directing Kings Point, a documentary about a retirement community in South Florida that has 13,000 people.
Emily Hubley/Jeremiah Dickey
Animator: Emily Hubley has been making animated films based on her personal essays/stories since 1980. Her newest, PIGEON WITHIN (September 1999) combines Xeroxed photographs with drawn figures to address issues of death, memory, doubt and belief - all of this in relation to a young woman's unexpected encounter with what may be her guardian angel. This film has been seen at the 2000 Sundance Film Festival, the Black Maria Film and Video Festival and the Museum of Modern Art in NYC. Ms. Hubley provided the animated segments for John Cameron Mitchell's HEDWIG AND THE ANGRY INCH (2001) which won both the Audience and Best Director's Award for a Dramatic Film at the 2001 Sundance Film Festival. She has created work for television and several independent films, including GOLDEN THREADS(1999) by Lucy Winer & Karen Eaton and DEATH BY DESIGN (1995) by Peter Friedman. Ms. Hubley is currently writing an animated/live-action feature and in addition to BLUE VINYL she is developing animation for KEEPING SOUND by Christianna Hannum. Emily lives with her husband and two children in Maplewood, New Jersey and is an adjunct professor at NYU and the School for Visual Arts.

Animator: Jeremiah Dickey is a recent graduate from the School of Visual Arts animation program in New York, whose past work experience has also included working under Emily Hubley as an animator on the feature film "Hedwig and the Angry Inch." Currently an animation mercenary freelancing in the brutal jungles of New York, he feels very lucky to have been a part of the Blue Vinyl project and hopes one day to make one or several films of his own.
Michelle Ferrari
Senior Creative Consultant: Senior Creative Consultant: Michelle Ferrari is the author and producer of several recent, critically-acclaimed PBS documentary specials, including Margaret Sanger, for which she and co-writer Bruce Alfred received a Writers Guild Award nomination in 1999, and Out of the Past, a history of the gay and lesbian experience in America and the winner of the Audience Award at the 1998 Sundance Film Festival. Ferrari also co-wrote Calling the Ghosts, a documentary exposé on the rape of female prisoners during the Bosnian crisis, which was awarded both the Robert F. Kennedy Journalism Award and the Emmy Award for Outstanding Investigative Special in 1998. She was the senior researcher and script editor on the landmark PBS series, The West, and has served as story editor and script consultant on numerous documentaries, including the forthcoming T-Shirt Travels:The Story of Secondhand Clothes and Third World Debt, and the recently-released Bombay Eunuch. She just completed work on Miss America, a history of the popular beauty pageant, which was named an official selection at the 2002 Sundance Film Festival and will air on the American Experience in the spring. She is currently at work on a film about the Depression-era racehorse Seabiscuit, and a three-hour PBS series entitled Reporting America at War. Ferrari graduated magna cum laude from the University of California, Berkeley, and holds a Masters Degree in American History from Columbia University. <close>
Robert West
Coordinator MY HOUSE IS YOUR HOUSE consumer organizing/outreach campaign: Robert West is executive director and co-founder (with Judith Helfand) of Working Films, a national organization linking independent filmmaking to social action and community education. Current projects range from high profile national efforts, including HBO and PBS broadcasts, to regional and local grassroots initiatives. Trembling Before G-d, Invisible Revolution, On Hostile Ground, and Blue Vinyl are all currently partnering with Working Films on their outreach and activism. A classroom project using independent media is running in over 200 classrooms in NC. National press coverage has included the LA Weekly, The Nation, and the Independent Film and Video Monthly. Working Films is a member of the Sundance Outreach Roundtable and sits on Sundance's House of Docs board of advisors. West was a board member of the Paul Robeson Fund for Independent Media for four years, a member for 2 years of the nominating committee for the Rockefeller Media Fellowships and a selection panel member and reader for Independent Television Service, a production arm of PBS.
Marty Ehrlich & Sam Broussard, Stephen Thomas Cavit, Terry Dame,
Four Piece Suit Composed the Original Music for Blue Vinyl


Please see the Blue Vinyl Press Log.
Read the Sundance Press Release.
Other Links: www.vinylinfo.org.