LYLE JENSEN is filled with rage. Abused by his father and all but ignored by his mother, it's no surprise that by the time Lyle is seventeen, his rage has begun to manifest itself in violence. After an intense fight with a classmate, Lyle finds himself committed to a juvenile mental institution in lieu of criminal prosecution. And so begins a journey filled with a menagerie of fascinating characters and provocative situations that lead Lyle down paths of self-exploration towards a quest for meaning in life.
Upon his arrival in Northwood Mental Institution, Lyle finds himself forced to deal with five fellow patients in frequent group therapy situations. Initially reticent, he sits back and observes as the audience is introduced to a motley crew of kids with varying diagnoses: CHAD, a seventeen year old with a bi-polar personality disorder, a regular at the institution and soon to be Lyle's best friend. TRACEY, a haunted, quiet, beautiful sixteen year old that Lyle is instantly attracted to. SARA, a rebellious, intelligent, recovering drug addict who has taken Tracey under her wing and voices her opinion freely and vocally. MICHAEL, Lyle's instant nemesis, a white kid who thinks he's black, a compulsive liar, and a recovering drug addict. And KENNY, a twelve year old Lyle identifies with instantly who has also suffered abuse at the hands of his parents.
At the head of the round table is a staff psychiatrist faced with the task of bringing order and peace to this sometimes intelligent, sometimes adolescent, always challenging group of kids. Enter DAVID MONROE, a doctor in his mid-thirties who uses his own experience as a recovering drug addict to guide his wards towards some kind of peace in their young lives.
Throughout the course of the story, these characters experience moments of insanity and terror along with moments of laughter and brilliant lucidity. Lyle makes friends for the first time in his life. Plans are made with Chad to escape the problems they face by fleeing to Amsterdam. At the same time, a relationship between Lyle and Tracey begins to bloom. All the while, David tries valiantly to break through the wall Lyle has so expertly constructed around his emotions.
Using a powerful combination of youth and experience, David expertly walks the line between friend and therapist, and seems to be making headway with Lyle and the rest of the kids. Lyle faces his brutal past and finally begins the long journey of learning how to deal with his seemingly uncontrollable rage. His progress is soon challenged, however, with a series of tragic events that deeply affect both Lyle and David.
As adversity and conflict reach an intense high point in the story, Lyle finds himself confronted with the question driving the entire film, and indeed each of our lives at one point or another. Can you find meaning in life when faced with tragedy and absurdity, or do you succumb to your demons and spiral into hopelessness? The end of Manic answers this question in a beautiful, heretofore unseen way.

PRODUCTION NOTES
Manic will be shot on digital video. The reasons for this choice are not simply the realities of a limited budget:Digital video is an appropriate medium for capturing the intimacy and illuminating the frustrations of life on a psychiatric ward. Because of the low cost of the tape stock, digital video allows for significant improvisation with the actors during the production which will serve to heighten the realism of the story. And as witnessed by the recent Buena Vista Social Club, digital video can be used to bring a dynamic and colorful palette to the screen.
The underlying theme of Manic is derived in part from an essay by Camus titled, The Myth of Sisophys. In that essay Camus questioned whether our lives are an endless circle of impossibility or whether the journey is truly meaningful. It is this question which the characters in Manic must face if they are to learn to control their darker impulses.
The look of the film in camera and style will be grounded in this theme. The camerawork will be dynamic and have a recurring circular motif. The colors in the design will be taken from the art of Vincent Van Gogh whose painting, Wheatfield with Crows, plays a pivotal role in Manic. Inside the ward, there will be subtle touches of the yellows and greens; outside in the courtyard, the scenes will take place under "Van Gogh skies." The filmmakers' philosophy is that all of the elements of the film from the script to the performances to the camera to the lighting, production design, editing and soundtrack work in concert to capture the singular theme of Manic.
Once editing is completed, the digital video format will be blown-up to 35mm for theatrical screenings.

JORDAN MELAMED - DIRECTOR
A native of Chicago and a graduate of the University of Michigan, B.A psychology, Jordan spent eight eight years in the chaos of the Chicago Commodity pits, trading everything from Soybeans to Gold.
After attending a summer course in filmmaking in 1992, Jordan wrote and directed his first film A Hole in the Floor which won awards at the New York University Film Festival and gained him entrance to the American Film Institute in Los Angeles. While earning his masters degree in directing at the AFI (1993-1996) Jordan wrote and directed three short videos, Strawberries and Blue Water, The Swing and The Censor. His thesis film, A Corner in Gold, played at film festivals worldwide and won numerous awards including an Emmy from the Academy of Television Arts and Sciences. The film was also featured in the Emerging Filmmakers Showcase at the 1998 Cannes Film Festival.
In addition to directing Manic, Jordan is writing a feature film titled Pitbulls, the story of three lifelong friends' experiences in the cutthroat world of commodity trading. Jordan is represented in Los Angeles by International Arts Entertainment. A Corner in Gold is available on video upon request.

MICHAEL BACALL - CO-WRITER/C0-STAR
Michael Bacall, a native of Southern California, has been acting since the age of four. Initially working on television shows such as THE A TEAM, THE WONDER YEARS, and DOOGIE HOWSER, Michael landed his first feature, WAIT UNTIL SPRING BANDINI, in which he starred opposite Joe Mantegna and Faye Dunaway. Roles in such movies as SHOUT opposite John Travolta, FREE WILLY and THIS BOYS LIFE with Leonardo DiCaprio followed.
Michael took time off from acting to attend UCLA. After graduating with honors in English and Communications, Michael went back into acting and was immediately cast (as a recurring character) on the critically acclaimed ABC drama RELATIVITY. Michael was then cast as a series regular in the short-lived FOX comedy LIVING IN CAPTIVITY which was created by Diane English (MURPHY BROWN). Most recently, Michael guested on ABC's hit comedy THE NORM SHOW which stars Norm MacDonald and Michael will be seen in the upcoming Disney feature MUMFORD which was directed by Larry Kasdan.
In addition to co-writing MANIC, Michael's first screenplay BOOKIES was recently sold to Intermedia (CLAY PIGEONS/ HILLARY & JACKIE/COMPANY MEN). BOOKIES is a college based drama surrounding students who set up a sports bookmaking operation out of their dorm room. BOOKIES will be released in 2000 and Michael will play one of the lead roles. Michael is also writing a script for director Joe Dante (INNER SPACE, GREMLINS).
Most recently, Michael has been cast as one of the leads in Phoenix Pictures' Urban Legend 2 which begins shooting this October.
When not acting, Michael enjoys snowboarding and playing guitar.

KIRK HASSIG- PRODUCER
Biography
January 2001
Kirk Hassig began his career as a producer in the advertising industry. For over ten years, he produced numerous successful commercial campaigns for clients like IBM, Mercedes Benz, Pizza Hut, McDonalds, Toyota, and Anheuser Busch.
In the 90's Hassig involved himself with "Scrap" an LA theater group, and soon found himself producing live theater, which quickly gravitated to an interest in feature films.

Hassig was the associate producer on the feature length documentary "Shirtless," directed by Mitch Gabierie. He then produced the black comedy
" American Strays," written and directed by Michael Covert and starring Eric Roberts, Jennifer Tilly, Luke Perry, and John Savage. Hassig was supervising
producer on the Lion's Gate thriller " The Last Stop," written by Bart Sumner, directed by Mark Malone,and starring Adam Beach, Rose McGowen and Jurgen Prochnow.

The last twelve months have been busy, Hassig went off to Texas to produce the quirky comedy, "Dirt," written by Michael Covert & co-directed with Tracy Fraim. Soon after wrapping "Dirt" Hassig was back in production with the digital feature "Manic" written by Michael Bacall, directed by Jordan Melamed, and starring Don Cheadle, Joseph Gorden-Levitt, Zooey Deschanel and Elden Henson. "Manic," cofinanced by the Independent Film Channel, wrapped in July. Hassig is finishing up "Dirt" & preparing "Manic" for its premiere screening at the 2001 Sundance Film Festival. Hassig continues to develop new feature film projects.



TRUDI CALLON - PRODUCER
Biography
August 2000
Born and raised England, Trudi Callon moved to Los Angeles in January 1992 to pursue a career in filmmaking. She joined foreign sales company, Harmony Gold, shortly thereafter, working as a story editor in the development department. Soon after, Callon was promoted to Director of Development and Acquisitions, responsible for developing and acquiring television series, movies-of-the-week and theatrical films to sell to the international market.
In February 1994 Callon became Director of Acquisitions for Frank Agrama and Ian Jessel's foreign sales company, Condor Communications, where she was responsible for the development and acquisitions of feature films, overseeing projects from negotiation of contracts through pre-production and production to the marketing campaign of the finished film.
In July 1996 Callon left Condor Communications to work in the feature film marketing division at 20th Century Fox where she was involved in all aspects of the studio marketing process.
Two years ago Callon left Fox to pursue a career as an independent producer. In addition to Manic, Callon is also in post production on Dirt, a quirky comedy written by Michael Covert and co-directed by Covert and Tracy Fraim. Callon has several new feature film projects in development.


BLAYNE WEAVER - CO-WRITER
Biography
January 2001


Blayne Weaver began acting in the children and community theaters of Bossier City, Louisiana at the age of five. As a teenager, Blayne worked professionally in commercials and television movies in Dallas, Texas.

After high school graduation Blayne attended the American Musical and Dramatic Academy in New York City where he garnered enough attention to land an agent in Los Angeles. Since moving west, he has worked steadily in film and television while writing and pursuing his education. His credits include a starring role in THE GOOD OLD BOYS for TNT opposite Tommy Lee Jones, Frances McDormand and Matt Damon, and guest appearances on ER and CHICAGO HOPE. Blayne was recently cast as the voice of Peter Pan in the upcoming animated Disney film, PETER AND JANE.

In addition to co-writing Manic and pursuing his acting career, Blayne is currently enrolled at UCLA studying for a degree in English.


CAROL STROBER - PRODUCTION DESIGNER
Carol has designed a number of Feature Films including: WHY LOVE DOESN'T WORK, directed by Julie Davis; SPARK, directed by Garret C. Williams; PLAN B, directed by Gary Leva, starring Jon Cryer and Lance Guest; I LOVE YOU, DON'T TOUCH ME!, directed by Julie Davis and distributed by MGM; STAR MAPS, directed by Miguel Arteta and distributed by Fox Searchlight; ONE GOOD TURN, directed by Tony Randel, starring James Remar, Lenny Von Dohlen, Suzy Amis and John Savage; WHERE THE ELEPHANT SITS, directed by Mark Lowenthal and winner of the Nicholl Fellowship in Screenwriting; and UNDER HEAT, directed by Peter Reed, starring Lee Grant, Robert Knepper and Eric Swanson.
Carol left a successful career as a New York architect/designer to attend the American Film Institute where she earned a Master of Fine Arts in Film, with an emphasis in Production Design. She has a Bachelor of Fine Arts, with a major in Interior Design and a Bachelor of Architecture from Pratt Institute. She was a partner in a New York design/build firm before opening her own design office. Her design projects have been published in magazines (Interiors, House & Garden Decorating Guide, House Beautiful's Home Remodeling), books, and exhibited in shows, including the American Institute of Architects show Women in Architecture. Her photographs have been shown in many group shows, winning the Jury Award at the 1989 NYU small works show.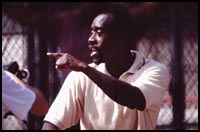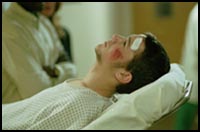 JOSEPH GORDON-LEVITT, DON CHEADLE, AND MICHAEL BACALL ARE CRAZY FOR "MANIC" (Coming soon)


>>12/2000 Next Wave Films announces the Agenda 2000 feature MANIC is an
official selection of Sundance 2001 in the American Spectrum portion of the festival.
More information will be coming later this month.