Ronald Judkins, Writer-Director
A veteran of the industry for many years, Ron Judkins makes his feature writing and directorial debut with "The Hi-Line." After starting his career as a documentary sound recordist for public television, Judkins also has experience as a writer, as a picture editor, and more importantly as a production sound mixer for dramatic features. In this capacity he has won two Academy Awards for Best Sound, one in 1994 for "Jurassic Park," and again in 1999 for "Saving Private Ryan." He was also nominated for an Academy Award for Best Sound for "Schindler's List." He has worked with directors Steven Spielberg, Alan Rudolph, Stephen Frears, and Gus Van Sant, among many others.
In the spring of 1999 he co-directed a production of Beth Henley's "Crimes of The Heart" which was mounted in Livingston, Montana. He is the producer of the one-woman theater production entitled "Mango, Mango," starring Debra Ehrhardt, and which enjoyed a sold-out run at the Lee Strasberg Theater in Los Angeles.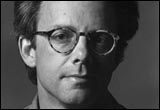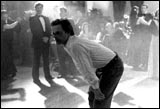 Collin Phillips, Producer
Collin Phillips is a writer, cinematographer, and editor of fiction films and documentaries, and has been active in professional video and film production since his freshman year in college. His concept and story, "The Death of a Bison Bull," is now in production for The Discovery Channel by Laulima Films and Scandinature Film of Sweden. Phillips is also co-writer of the story, "Year of the Wolf," which is in development as a motion picture.
He was sound mixer and cinematographer for "Survival of the Yellowstone Wolf" for Busch Productions/Turner Original Productions and "The Great Bears of North America" for Busch Productions, and co-producer and cinematographer for "The Grand Tour," a short fiction film for Silent Pictures. Phillips has also served as juror or judge at many film festivals.
Prior to his work in western film, Phillips' experiences were varied and eclectic. He was a commercial fisherman, a musician, and a producer of Salsa, German Polka and Tex-Mex music programs in the Texas radio scene. Phillips also completed a three thousand mile, two-year walk from Port Isabel, Texas to the Montana-Canadian border. He currently resides in Austin, Texas.
Molly Mayeux, Producer
Molly Mayeux has an extensive background in low-budget, independent and studio production. A member of the Director's Guild of America, Mayeux worked her way up the production ladder from runner to producer. As a producer, her first project, "I Shot a Man In Vegas," starring Janeane Garofalo and John Stockwell, is being released domestically through Arrow Releasing. Mayeux associate produced the recent Columbia/Tn-Star release "Savior," with Oliver Stone's production company, Ixtlan, starring Dennis Quaid and Natassja Kinski. Her own production company, Dahlia Street Films, established in 1996, has several projects in development.
Among her past credits as Assistant Director, are films such as "Dumb and Dumber," "Kingpin," "The Road to WelIville," "Batman Forever" and "A Thousand Acres."
Barbara Boyle and Michael Taylor, Executive Producers
Barbara Boyle and Michael Taylor formed Boyle-Taylor Productions in 1992 to produce theatrical motion pictures and television films.
Among Boyle-Taylor's past credits are "Phenomenon," directed by Jon Turteltaub and starring John Travolta, Robert Duvall, Forest Whitaker, and Kyra Sedgwick; the critically acclaimed "Bottle Rocket," directed by Wes Anderson, and Showtime's' "Mrs. Munck" starring Diane Ladd, Bruce Dern, Kelly Preston, Seymour Cassel and Shelley Winters, who was nominated for an Emmy for her performance.
Boyle-Taylor is now in post-production on "Instinct," starring Anthony Hopkins and Cuba Gooding Jr., for Touchstone Pictures. The film, which will be released this summer, was directed by Jon Turteltaub, and inspired by the novel Ishmael by Daniel Quinn with an original screenplay by Gerald Dipego. Boyle-Taylor are currently preparing the production of "Mutant Message Down Under" based on the best seller by Marlo Morgan.
Martin Cohen, Executive Producer
In addition to his job as Post Production Executive at DreamWorks, Marty Cohen is also an Executive Producer on the independent films "Moth Man," "3 Cigarettes" and "The Hi-Line."
Cohen started his career as a production assistant for Ralph Bakshi Productions, then worked as an apprentice editor on "Pennies from Heaven" and "Max Dugan Returns." A member of the Editor's Guild, he assistant edited such films as "Meat Balls 2," "Best Defense," "The Goonies" and "The Color Purple"; edited "The Princess Academy" and "The Woman's Club."
In 1987, after serving as Associate Editor on "Empire of the Sun," Cohen joined Amblin
Entertainment as the head of Post Production. Most recently, he has served as Post Production Executive on such films as "Amistad," "Deep Impact," "Saving Private Ryan," "Antz" and "The Prince of Egypt." Current projects include "Forces of Nature," "The Haunting of Hill House," "Gladiator" and "Cast Away."
Wally Pfister, Director of Photography
Wally Pfister's credits as director of photography include "Momento" and "Rustin" both to be released in 2000, "The Hi-Line," "The Sketch Artist," for Showtime for which his cinematography was nominated for a CableAce Award, "Rhapsody in Bloom," "A Kid In Aladdin's Court," "Breakfast with Einstein," and the Academy Award-nominated short film "Senzeni-na."
As second unit DP, Pfister has worked on "Dennis The Menace Strikes Back," "Austin Powers: International Man of Mystery" and the HBO series "Tanner '88." His past credits as "A" camera operator include "Teatro," "Instinct," "Mousehunt," "Phenomenon," "While You Were Sleeping" and "Unstrung Heroes." Pfister's documentary camera work earned him two Emmy Awards for the PBS series "Frontline." He currently resides in Los Angeles.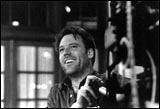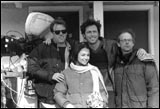 Christine Schuman, Production Designer
Christine Schuman is a native Montana rancher, yet is experienced working on both studio and independent films. Her love of vintage sets and clothing led her to start a business designing and tailoring western clothing for singers and horseback riders. Schuman began her second career doing costumes for "Far and Away" with Tom Cruise and Nicole Kid man, and for "A River Runs Through It" with Tom Skerritt and Brad Pitt. She has also done work for television on such projects as "Walker, Texas Ranger," "Return to Lonesome Dove," the miniseries "Streets of Laredo" and the currently running "There You Have It," a Black Hawk music video. Schuman's knowledge of vintage and western sets and clothing have made her an in-demand production designer for projects in the mid-west, including the feature film "Grizzly Mountain" with Dan Haggerty.
Hala Bahmet, Costume Designer
Hala Bahmet started her career at the Guthrie Theatre in Minneapolis, and at Paisley Park Studios working for the Artist formerly known as Price. Most recently, she was designer of the feature films "Desperate but not Serious," a comedy starring Claudia Schiffer, "Rustin," due to be released in 2000, and the award winning play "Beast on the Moon," a period drama set in the 1920's-40's. Bahmet has extensive credits in music videos including Michael Jackson's "Childhood," and Meatloaf's "I'd Lie for You and That's the Truth." She has also worked as a costume designer with directors such as Tim Burton, Mark Pellington, Steve Buscemi, and Howard Greenhalgh on various commercial projects.
Charlie Webber, Editor
After graduating from the College of William and Mary, Charlie Webber moved to the mountains of Colorado, skiing and working for a year while he made a short film, which he crudely edited by holding the film up to the light and counting frames. A love of editing was born. This short film led to acceptance at the American Film Institute where he graduated with an M.F.A. in editing. After a brief stint as an assistant, he edited two documentary series - "Unbelievable Sports" for ESPN and "Wild Things" for Paramount Television. Webber moved on to features, editing "Bury Me In Kern County," which placed 2nd at the South by Southwest Film Festival and has screened at both the Montreal and Palm Springs Film Festivals; and "Hijacking Hollywood," which won the San Antonio Film Festival and is currently airing on HBO and Cinemax
John Bissel, Music Supervisor
John Bissel started his career development and music coordination for television, working with show such as "Soul Session: James Brown and Friends," "America's Top Ten" and the "Fifth Annual American Video Awards." He then moved onto the music department at Paramount Pictures where he worked in-house on features and television series. In 1991 Bissel and his wife moved to Montana, where he continues to work as an independent music supervisor and consultant on projects including "The Lawnmower Man," "Snow Falling On Cedars" and "The Horse Whisperer." He has also worked on Canadian features such as "Kitchen Party," "Rupert's Land" and "Tail Lights Fade"; and music supervised the Canadian television series, "Get Serious." In 1992, Bissel started Mothlight Concert Productions, one of the largest independent concert promoters in the mid-northwestern region, presenting acts such as Michelle Shocked, Sarah McLachlan, Yo La Tengo, Southern Culture on the Skids, Sebadoh and the Jon Spencer Blues Explosion.
Rosemary Welden, Casting Director
An award-winning casting director, Rosemary Welden began her career in entertainment as an ICM agent trainee, then landed her first casting job at CBS for "The Twilight Zone" and "Crime Story." Welden has cast for film and television with such heavyweights as Brandon Tartikof, Propaganda films, CBS, NBC, the USA Network and Sony Pictures. Recently, she has segued into producing films such as "Kate's Addiction" and "The Woman Chaser," both to be released this year.