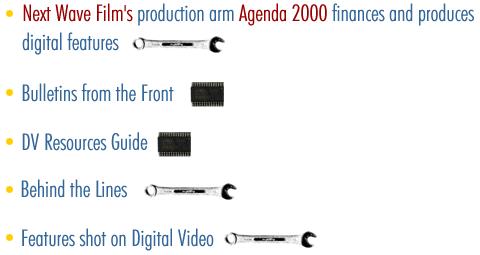 Articles and Updates
Last updated 5/10/02
>>05.10.02 Article: "NAB2002 Focuses on D-Cinema" on IndieWire.com


>>01.24.02 Sundance Film Festival 2002 selects digital features to sweep the awards including Best Dramatic Feature and Cinematography - Personal Velocity (Sony PD150), Best Director for Tadpole - Gary Winick (Sony PD150), and also Blue Vinyl for Best Documentary in Cinematography (various digital formats and BetaSp).


>>07.10.01 Features shot digitally is updated.

Featured Articles by Team Next Wave

ARCHIVES: Feartured Articles on Team Next Wave


- if you have tips or tricks that you'd like to share, fill out our feedback form.

- sign up to receive Bulletins from the Front, updates on Next Wave Films, and the latest on Digital Video production.